Outdoor lighting has evolved from a mere functional element to an art form that enhances the beauty and safety of our outdoor spaces. With the increasing emphasis on aesthetics and energy efficiency, permanent outdoor lights have become a staple in modern landscape design. This comprehensive guide delves into the intricacies of outdoor lighting, exploring its history, benefits, types, and best practices.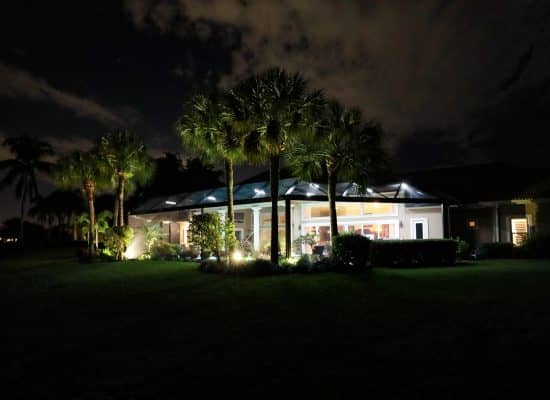 The above image showcases the beauty of outdoor lighting, emphasizing its role in enhancing architectural features and creating a warm ambiance.
2. The Evolution of Outdoor Lighting
From the rudimentary torches of ancient civilizations to the sophisticated LED fixtures of today, outdoor lighting has undergone significant transformations. The 20th century marked a pivotal shift with the advent of electric lights, which replaced traditional oil lamps and candles. Today's landscape is dominated by innovations like LED technology, solar-powered lights, and automated systems, making outdoor lighting not just about illumination but also sustainability and design.
3. Benefits of Permanent Outdoor Lights
Safety and Security: A well-lit exterior is essential for safety. It ensures clear visibility, reducing the risk of accidents. Especially in uneven terrains or areas with water features, proper lighting is crucial to prevent mishaps. Moreover, a brightly lit property can deter potential intruders, adding an extra layer of security.
Aesthetic Appeal: Lighting can transform an area. With the right fixtures and placement, you can create a magical ambiance. Shadows, silhouettes, and highlights can emphasize the beauty of both natural and man-made features. The play of light and shadow can bring out textures, colors, and forms that are often overlooked during the day.
Functionality: Lights extend the usability of outdoor spaces. A well-lit patio or garden invites more evening relaxation and gatherings. It ensures that outdoor spaces are not just limited to daytime use but are enjoyed round the clock.
Energy Efficiency: With the global shift towards sustainability, energy-efficient lighting solutions like LEDs are in demand. They not only reduce electricity bills but also have a longer lifespan, making them a cost-effective choice.
The pie chart above provides a visual representation of the market share of different light types. It's evident that LED lights, known for their energy efficiency and longevity, dominate the market.
4. Types of Permanent Outdoor Lights
The variety in outdoor lighting allows for creativity and customization:
Path Lights: Essential for walkways, they ensure safe navigation. These lights can range from simple stake lights to intricate designs that add to the landscape's beauty. They guide visitors, preventing tripping hazards and illuminating any obstacles.
Accent Lights: These are used to highlight specific features, be it a statue, a tree, or a water body. They draw attention and can create focal points in your garden or yard. By strategically placing accent lights, you can emphasize the best features of your landscape.
Deck and Patio Lights: These enhance the ambiance of relaxation areas, making them cozy and inviting. Options include wall-mounted fixtures, hanging lights, and even embedded floor lights. They create a warm atmosphere, perfect for evening relaxation or gatherings.
String Lights: Perfect for festive occasions or to create a whimsical atmosphere. They can be draped over trees, along fences, or across patios. String lights add a touch of magic, making every evening feel like a special occasion.
5. Installation Tips from Power Rite Electric
Installation can make or break the effectiveness of outdoor lighting. Here are some expert tips:
Assess the Area: Understand the layout, identify key features, and decide on the areas that need emphasis. This preliminary assessment ensures that the lighting complements the landscape.
Choose the Right Fixtures: Depending on the area and purpose, select fixtures that complement the space. Consider factors like brightness, color temperature, and design.
Opt for LED: They are energy-efficient, durable, and offer a range of color temperatures to set the right mood. LED also have a longer lifespan, ensuring that you get value for your investment.
Consider Automation: Modern systems allow for dimming, motion detection, and even color changing. Automated systems add to the convenience, ensuring that lights are only on when needed, saving energy.
The video provides a visual insight into the transformative power of permanent outdoor lights, showcasing their potential in various settings.
6. Maintenance and Care
To ensure longevity and optimal performance:
Regular Cleaning: Dust and debris can diminish light output. Use a soft cloth to clean fixtures and bulbs. This not only ensures optimal brightness but also extends the life of the fixtures.
Check Wiring: Ensure there's no wear and tear, especially after extreme weather conditions. Regular checks can prevent potential hazards and ensure consistent lighting.
Update Bulbs: As bulbs near the end of their lifespan, replace them to maintain consistent lighting quality. Opt for energy-efficient replacements to further reduce energy consumption.
The line chart above depicts the monthly sales trend of outdoor lights. It's evident that there's a surge during the early months, possibly due to landscaping projects initiated in spring.
7. Conclusion
Permanent outdoor lights are more than just fixtures; they are an embodiment of art, functionality, and technology. With the right choices and maintenance, they can transform any outdoor space into a haven of beauty and comfort. At Power Rite Electric, we are committed to bringing this transformation to your doorstep, ensuring quality, durability, and aesthetics.